Description
Dedicated GPS Navigator with Driver Alerts
Easy-to-use dedicated GPS navigator with bright 6.0-inch dual-orientation display
Preloaded with maps of Australia & New Zealand
Driver alerts for dangerous curves, speed changes, speed cameras², railroad crossings, animal crossings and more
TripAdvisor® ratings for travel points of interest (POIs), such as hotels, restaurants and attractions
Garmin Real Directions™ feature guides like a friend, using recognisable landmarks, buildings and traffic lights
Wherever you're going, have a smoother trip with Garmin Drive. This dedicated GPS navigator includes innovative driver alerts to help increase your situational awareness and preloaded travel points of interest from TripAdvisor to help find everything you need along the way. Drivers also benefit from basic parking availability information based on historical data . The future is on your Garmin. Just look ahead and drive.
Driver Alerts: Know Your Surroundings
To encourage safer driving and increase situational awareness, Garmin Drive provides driver alerts for sharp curves, speed changes, railroad crossings and animal crossings. Additionally, the navigator will warn you when driving the wrong way on a one-way street and alert you to nearby schools and school zones. Receive notifications for nearby red light cameras and speed cameras², and even get fatigue warnings³ that suggest potential rest areas after several hours of driving.
Road Trips Just Got Better with TripAdvisor
When you're not familiar with the area, it's nice to have something to point you in the right direction. That's why we're bringing TripAdvisor to your Garmin Drive navigator. View ratings for travel POIs, such as hotels, restaurants and attractions, along your route or near your destination. From the world's largest travel site directly to your car, we're helping you find the stops that make the entire journey part of the destination. Also locate new attractions with the built-in Trip Planner tool, which adds fun to road trips by suggesting interesting stops along the way.
Friendly Guidance from Garmin Real Directions™
Redefine "spoken turn-by-turn" directions with Garmin Real Directions. Our easy-to-understand driving directions use recognizable landmarks, buildings and traffic lights in addition to spoken street names, guiding you as if your best friend is sitting in the passenger seat. No more squinting to read distant street signs. Just listen for Garmin Real Directions to tell you, "Turn left after the QT," or "Turn right after the red building." Following directions has never been easier.
Find Exactly Where You Need to Go
The Direct Access feature simplifies navigating to complex destinations, such as airports or shopping malls, by finding a place within a larger location. It even helps navigate through parking lots to find the entrance nearest your destination. Additionally, parking information based on historical data is available to help you find parking near your destination.
More to See and Do with Foursquare®
Thanks to Foursquare, your Garmin Drive navigator is loaded with millions of additional popular places like restaurants, entertainment venues, shops and other points of interest. Next time you get in the car and take a ride, you might just find your new favorite spot.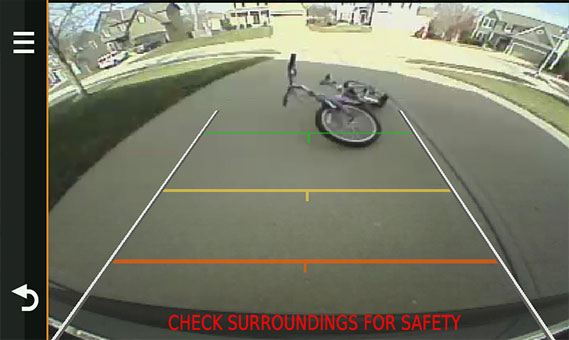 Works with Garmin Backup Camera
For a complete navigation solution, Garmin Drive pairs with the BC™ 30 Wireless Backup Camera (sold separately; professional installation recommended). Once connected, you can easily see vehicles, pedestrians and other obstacles right on the Garmin Drive display as you move in reverse.
What's In The Box?
1x Garmin Drive 61LM
1x Vehicle power cable
1x Vehicle suction cup mount
1x USB cable
1x Quick start manual
Audio Features
Lane Guidance, Street Name Announcement
System Features
Logbook
Estimated Battery Life (hr)

up to 1 hour

Battery Type
Rechargeable Li-ion
Included Map
Australia, New Zealand
Screen Size (inches)
6" (

5.36"W x 2.83"H (13.6 x 7.2 cm); 6.1" diag (15.4 cm)

Screen Type

WVGA color TFT with white backlight, resistive touch

Screen Resolution
800 x 480
Digital Media Cards Reader
Micro SD
Weight (kg)

8.5 oz (241 g)

Physical Dimensions


6.7"W x 3.7"H x .8"D (17 x 9.4 x 2.1 cm)

Dual-Orientation display

Yes

Data Cards

microSD™ card (not included)

Manufacturer's Warranty 
12 months
Backup Camera Compatible

yes (BC™ 30)
 Included Navigation Features
GARMIN REAL DIRECTIONS™ LANDMARK GUIDANCE

MILLIONS OF FOURSQUARE® POINTS OF INTEREST

TRIPADVISOR® RATINGS FOR POINTS OF INTEREST

ROUTE SHAPING THROUGH PREFERRED CITIES/STREETS

LANE ASSIST WITH JUNCTION VIEW (DISPLAYS JUNCTION SIGNS)

SPEED LIMIT INDICATOR (DISPLAYS SPEED LIMIT FOR MOST MAJOR ROADS IN THE U.S. AND EUROPE)

DRIVER ALERTS FOR SHARP CURVES, SCHOOL ZONES, RED LIGHT AND SPEED CAMERA WARNINGS AND MORE
²Red light and speed camera warnings are not available in all regions. View your region for more details regarding paid subscriptions for updated content.
³The fatigue warning activates after longer periods of consecutive driving without any long stops along the route.
Payment & Security
Your payment information is processed securely. We do not store credit card details nor have access to your credit card information.